Kürzlich habe ich diesen Stempel bei Tiddly Inks entdeckt und war mal wieder sofort verzaubert. Ist das nicht ein wunderschönes Motiv? Ich musste es mir gleich zulegen und dann konnte ich mich nicht entscheiden zwischen der Version mit dem Mädchen, das Ihr hier sehen könnt und derjenigen mit dem Jungen. ... ja, den könnt Ihr dann bald mal sehen, denn wie erwähnt konnte ich mich nicht entscheiden, hust, hihi!
I saw this stamp recently at Tiddly Inks and thought, that this is so magical and radiates so much coziness, that I bought it immediately. I could hardly decide between the version with the girl which you can see here on this card and the version with the boy. ... Well, I guess you can see that one on my blog soon as well. As stated, I could not decide, hihi.
Für den Aufbau meiner Karte habe ich eine Sketchvorlage aus der aktuellen Challenge von Freshly Made Sketches genommen. Außerdem habe ich mich leiten lassen vom Thema "Let it Snow" der derzeitigen Challenge des The Paper Players Blogs.
Für den Schnne habe ich mit Rubberkrepp gestartet, den ich mal ausprobieren wollte. Ich habe mit einerm Pinsel die Schneeflocken aufgetragen und dann das Motiv mit Copics koloriert. Leider löste sich das Rubbelkrepp dabei schon wieder ab, so dass ich dann hinterher den Schnee nochmals mit Deckweiss nachgemalt habe. Vielleicht war ich einfach zu ungeduldig und hätte den Rubbelkrepp erst besser trocknen lassen müssen. Die weiß rot gestreifte Kante habe ich selbst gemalt. Ich hatte einige Schleifenbänder ausprobiert, aber sie wirkten zu diesem Motiv zu dominant. Den Hintergrund des Schildchen habe ich mit Copics koloriert, nachdem ich lange nach einem passenden Hintergrund gesucht habe - und nichts gefunden hatte.
I used a sketch from the current challenge of Freshly Made Sketches for the layout of my card and was guided by the theme "Let It Snow" from the newest challenge of The Paper Players.
I used something called "Rubbelkrepp" for the snow, which I applied with a brush. I then started to colour the image with Copics, but the Rubbelkrepp came off when colouring. I added "Deckweiss" then instead, when I was finished with the Copic colouring. Maybe I would have needed to wait a little longer with drying of the Rubbelkrepp. I drew the red and white stripe myself. I had tried out quite a few ribons, but they were to dominant for the image. I also tried to find a matching background for the little banner on the botoom, but since I was not satisfied with what I had, I just drew it myself with Copics.
Ich wünsche Euch allen einen schönen Nikolaustag! ... hatte ich erwähnt, dass ich zu einem bestimmten Ereignis ein Blogcandy haben werde? ... hatte ich ebenfalls erwähnt, dass es dann von Vorteil ist, wenn Ihr bereits zum Start des Goodies eingetragener Follower des stempelfrida Blogs seid?
I wish all of you a happy Santa Claus day (I guess this is only being celebrated in European parts of the world, maybe even only in Germany). Did I mention, that I would have a Candy coming on my blog for a special event? ... and did I mention, that it is of advantage to be a registered follower of the stempelfrida blog before the goodie goes live?
Materialliste
Supplies
Stempel /

stamps

: Tiddly Inks Winter Lights Wryn; Hampton Art CS4306 Doo.Bug Christmas-T
Stempelkissen /

stamp pad

: Color Box Chalk azurite
Signo Marker white
Schmincke Deckweiss
Rubbelkrepp
Copics 0, C1, C3, C5, E00, E08, E11, E15, E31, E35, E77, R02, R27, R39, B0000, B000, B12, B14, B24
An den folgenden Challenges möchte ich mit meiner Karte teilnehmen.
I would like to participate into the following challenges with my card.
Freshly Made Sketches
Sketch 215
Tiddly Inks Challenge
Challenge #171 - Anything goes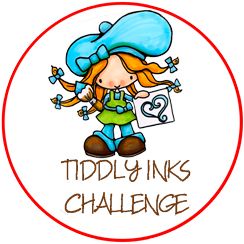 The Paper Players
Challenge #274 Theme: Let it snow