So, ich wäre dann soweit für Halloween :)
Are you ready for Halloween? I am!
Diese Karte schaut ja ein bisschen aus wie eine Leinwand, aber es ist tatsächlich nur eine Karte. Das besondere Design habe ich bekommen, da die Oberfläche der schwarzen Karte eine Struktur hat und diese habe ich mit einer weißen Stempelfarbe schön herausarbeiten können. Das eigentliche Bild ist mit Copics koloriert und hinter der Karte mit Abstandspads angebracht. Für das Loch habe ich die Karte eingerissen und die Zipfel aufgerollt und mit einer Feile bearbeitet. An den Ecken habe ich Ornamente von Magenta aufgeklebt.
The card looks a bit like a canvas, but it really only is a card. I achieved this special look by using a patterned black card stock and I worked on it with white stamp dye to achieve the special look, which brings out the structures nicely and looks altered. The main image is coloured with copics and glued behind the card with distance pads. I made the hole by tearing pieces apart in the middle and rolling the loose ends up. I also worked on them with a nail file. I glued Magenta ornaments into the corners of the card.
Materialliste
Supplies
Stempel /

stamps

: Indigo Blue Hocus Pocus HIER könnt Ihr die Stempelplatte bestellen / You can oder the stamp plate HERE
Stempelkissen /

stamp pad

: Memento tuxedo black; Brillance Moonlight White
Das Memento Stempelkissen könnt Ihr HIER bestellen / You can order the Memento stamp pad HERE
Copics Y08, Y17, Y38, YR16, YR18, R08, R27
An den folgenden Challenges möchte ich mit meiner Karte teilnehmen.
I would like to join the following challenges with my card.
Great Impressions
September Challenge - Trick or Tree-t
Copic Marker Europe
Challenge #43 - Halloween
Simon Says Stamp Wednesday Challenge
Use a Stamp Challenge and Blog Hop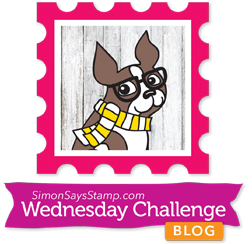 Craft Stamper
Take it make it challenge September - Take a stamp: anything goes