Seit diesem Monat habe ich mir ein Stempelabo gegönnt. Ich fand die Idee ganz nett, dass ich mir erstens mal etwas gönne (man sollte immer mal wieder an sich selbst denken! Ja, Du da, liebe Leserin, lieber Leser, Du auch!) und zweitens, dass ich monatlich überrascht werde. Natürlich weiß man nicht ganz genau, was man in einem Abonnement bekommen wird, das ist das Risiko oder auch das Spannende daran, aber man kauft ja nicht die Katze im Sack, denn man kann ja den Stil der Firma oder des Anbieters vorher ansehen und hoffen, dass sich dieser nicht allzu sehr ändern wird über die Zeit des Abonnements. Wenn die Firma schon länger existiert, dann kann man sich normalerweise auch die früheren Monatssets ansehen.
In meinem Fall habe ich das Monatsstempel-Abonnement von Anne 581 (KLICK) ausgesucht. Die Sets sind Text-fokussiert (also ist die ursprüngliche Zielgruppe vermutlich eher die der Scrapper) und nur ein oder zwei Bildchen sind normalerweise pro Monat dabei. Ihr könnt ja mal auf ihre Seite schauen und ein bisschen stöbern. In Zukunft werdet Ihr dann vermutlich häufiger mal ihre Stempel auf meinen Karten entdecken. Ich fand es aber sehr spannend, vor allem deutsch-sprachige Texte für meine Karten zu bekommen. Sehr häufig griff ich doch bislang auf die "Standards" zurück (wie Happy Birthday, hello, etc.). Längere Sprüche waren mir dagegen oft zu tragend schwer oder zu lang. Das soll in Zukunft anders werden! Die Stempel von Anne 581 lehnen sich an die jeweiligen Monate oder Folgemonate an und sind leicht und witzig. Im März ist es zum Beispiel der Frühling, aber auch Ostern, welches für den kommenden Monat an der Tür klopft. So kann man entsprechende Karten oder andere Projekte schön vorbereiten.
I thought I would do myself something good and entered a stamp subscription from this month on. Actually, one should here and there treat oneself with some goodie. Isn´t it nice to allow yourself something good each month and on top to also be surprised? Sure, you can not be completely sure that you will like what you get, but this is the risk or the fun with a subscription. But you do know the company before entering and their style most likely will not change completely over time. If the company exists for some time already you can also look at their older items to kind of know what you are getting into.
My subscription is from Anne 581
(CLICK). The sets are dominated by text pieces, words and short fun and light sentiments (so the original focus group is from my judgement, mainly scrapper) and there are usually only one or two images that come along per month. But I liked the sets so much, since I love to have German words on my cards. So far I quite often used the same words over and over again (like Happy Birthday, hello, etc.) on my cards. I found long sentiments quite heavy mood-wise or space taking on a card so that I am really excited to use the stamps from Anne 581 from now on. Maybe you want to have a look at her site and check out her fun sets. You will most likely find her stamps on my cards more often in the future. The topic of the monthly sets are related to the things happening in the running or the month to come. So for example the March set contains spring words and Easter as a theme. This way you can nicely create stuff matching the season or events from the coming month.
Zur Karte:
Meine liebe Freundin Ilona hatte zu einer Nachfeier ihres Geburtstags in kleiner Bastelfreundinnenrunde eingeladen. Da ihr Geburtstag schon sehr lange her ist und ich ihr damals bereits eine Karte spezifisch zum Geburtstag gemacht hatte, wollte ich ihr jetzt eine passend zur Jahreszeit, Stimmung und natürlich hoffentlich nach ihrem Geschmack machen.
Die Karte habe ich mit den relativ neuen Ranger Distress Oxides Stempelkissen gemacht. Ich hatte Euch versprochen, auch hiervon zu berichten. Für den Hintergrund habe ich mit drei Farben gewischt, gewuselt, gestempelt und mit Wasser gesprüht. Das Tolle an den Distress Inks ist erstens, dass sie eher auf dem Papier aufliegen, so dass man sie schön über eine lägere Zeit vermischen und verteilen kann. Zweitens reagieren sie mit Wasser. Wenn man also Wasser aufbringt, z.B. mit einem Sprühfläschchen, dann kann man tolle Effekte erzielen. Man hat die Möglichkeit entweder nass in nass zu arbeiten oder die Spielwiese zwischendurch zu trocknen, so lassen sich die Farben auch übereinander aufbringen. Die Distress Oxides sind wunderschön deckend. Das ist die dritte Eigenschaft, die mich ganz besonders beeindruckt hat. Und zwar so sehr, dass ich in den letzten Wochen fast ausschließlich mit ihnen arbeite. Sie geben einen wunderschönen satten Stempelabdruck.
Für den Hintergrund habe ich dann noch einige Kleckse mit anderen Farben gestempelt und gezeichnet. Die Blumen und Blätter habe ich auf den fertigen Hintergrund gestempelt. Details habe ich mit Buntstiften nachgezeichnet oder zugefügt. Außerdem habe ich damit Schattierungen eingebracht. Zum Schluß habe ich die schönen Worte aus dem Märzset von Anne 581 aufgestempelt. Dazu habe ich sicherheitshalber mit einer Stempelfunktionsplatte gearbeitet, aber die Distress Oxides haben bereits beim ersten Abdruck überzeugt, so dass ich nicht nochmal nachstempeln musste.
About my card:
My dear friend Ilona invited a small group of craft friends to party her birthday. Since her birthday was quite a long time ago already and I had sent her a card with a birthday theme already, I wanted to make a card which fits to the season, to the current mood and hopefully would also match her taste.
You might know the quite new Ranger Distress Oxide stamp pads already. I promised to tell you a little more about them. I used three colours to create the background with whiping, smooshing, stamping and with spraying water. One of the special characteristics of the Oxides is that they somehow lie on the paper surface so that you can mix them and spread them for quite some time. The second nice characteristic is that they react with water so you can create nice effects by adding or spraying water onto them. You can either do it wet on wet or you let your craft piece dry in between the steps. This way you can even overlay more colours on top of each other. The third characteristic is that they are quite opaque. I love this property so much that I recently use to use them almost exclusively for my stamping. They really give a very rich imprint.
After creating the background I added a bit more blur and spots with further colours and with a marker. I then stamped the flowers and leaves and stressed and added details with pencils. I also brought shades into the image with them. I finally stamped the nice words (they read: spring awakening, birds chirp, day dreaming) from the Anne 581 March kit with a stamp platform to be on the safe side. But it was not really necessary, since the first imprint was already very rich so one time stamping was enough.
Stempel /

stamps

: Anne581 Monatsstempel März 2018; Marianne Design - EC0162; Inkadinkado 93552 Lily of the Valley Boxed Set; The Cats Pajamas B-5318 Dust; Savvystamps 487E Criss-Cross Background
Stempelkissen /

stamp pads

: Ranger Distress Oxides Hickory smoke, worn lipstick, twisted citron, lucky clover, black soot
An den folgenden Challenges möchte ich mit meiner Karte teilnehmen.
I would like to participate into the following challenges with my card.
Simon Says Stamp Monday Challenge
Easter/Spring Inspiration challenge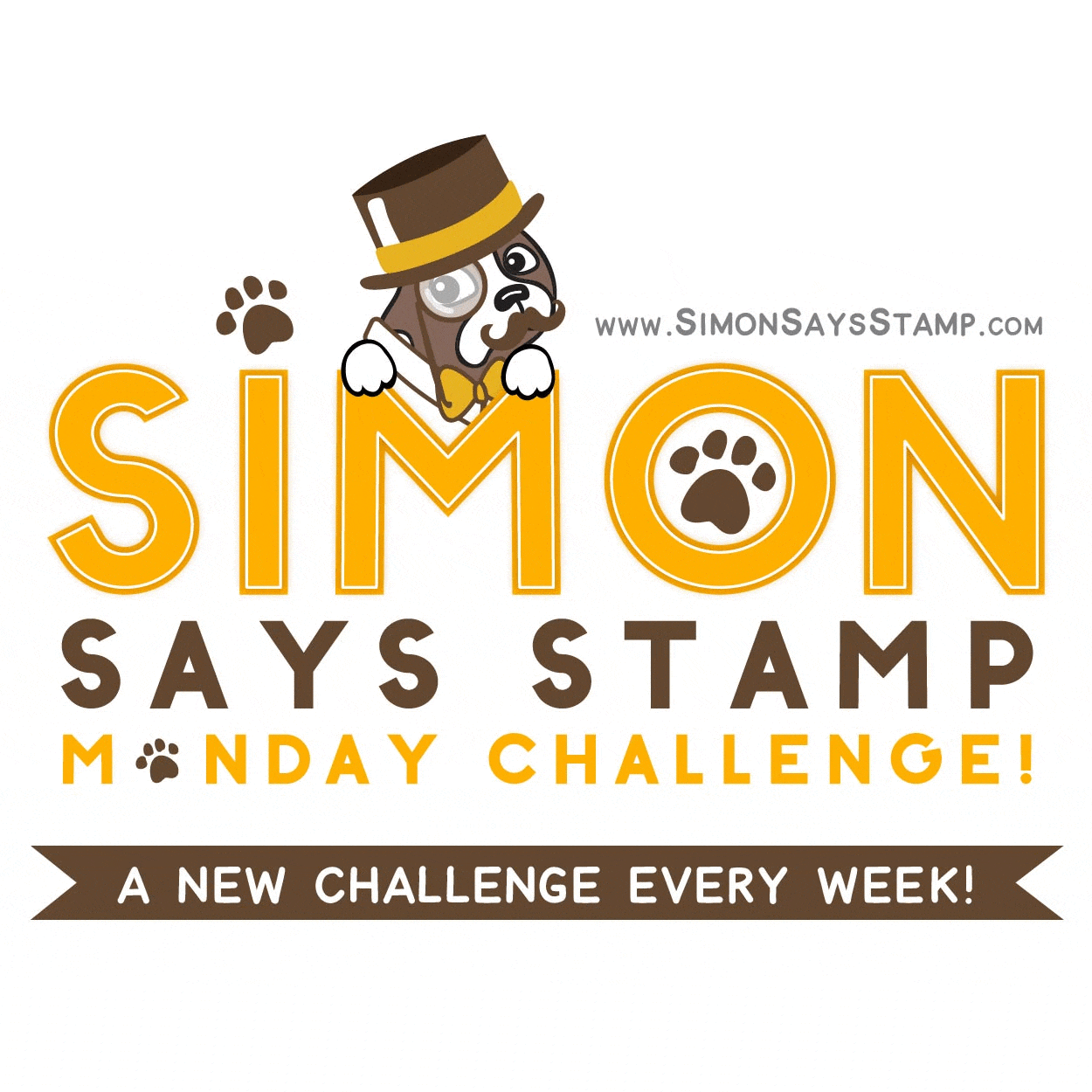 Basteltraum
Challenge #63 - Ostern / Frühling